Photo by S.Bat/2021.03.31
In the previous report, we discussed the closure of schools and kindergartens due to the Covid-19 epidemic, and it has exacerbated educational inequality. While e-learning may not be equally accessible to all students, it does benefit some students. We received letters and comments based on how the students in the ger districts, further from the capital, are attending teleclasses and regarding their living conditions. 
The example of how Japan continues to teach during the Covid period is striking. "Schools and kindergartens in Japan have not been closed for a long time. The sterilizations of classrooms and school faculties were excellent and the children were perfectly taught how to wash their hands. My one-year-old son who goes to kindergarten always washes his hands. Amidst the cold in snowy winter, schools kept their windows open all day to prevent the spread of the virus. At first, I felt sorry for my daughter who was wearing a scarf, gloves, and his winter jacket sitting in class. In Japan, if there was a suspected case of Covid-19, they would respond and take measures quickly, and return to school in 1-2 days." 
As a result of the pandemic, children's knowledge and skills acquired through classroom learning are lagging, which in turn has a long-term negative impact on the country's development. So Japan is one example where most countries are trying not to be as late as possible. According to UNESCO, very few countries have fully quarantined kindergartens and schools for many days. As of April 1, UNESCO has classified Mongolia as being on an 'academic break'.
To be all finish equally
The situation in our education sector, which has been deteriorating in quality and access over the last 30 years, is experiencing a 'high fever' due to the pandemic. Once the population is vaccinated, if the 'fever' is not reduced and rehabilitated in a short period, the population will likely remain weak and malnourished educationally. This means that the education sector cannot simply leave it all up to natural selection. If the academically delayed students are left unattended, equal access to education will simply remain words on paper. In fact, after the pandemic, the policy solution should focus more on the education sector. This is the most optimistic start. To be positive about the future of this fragile and policy-stricken sector, let's attempt to predict the next criteria and challenges. If all this can be overcome, then the post-Covid-19 education environment will shine. 24 hours is not enough for students to make up for the delays of a year and a half, but there will be an increase in the demand for teachers and staff to provide training and education in this area after the pandemic. 
For this issue exactly, we contacted the experts from the sector and asked what would happen if the delays were not rectified. Former Minister of Education L.Gantumur said, "It is dangerous to procreate the measures that should be taken to eliminate the delays as soon as possible. The ministry also said that it was preparing to implement a two-to-three-year plan to address the delay. Therefore, to eliminate the huge delay in a short period, the workload of teachers and students will increase dramatically, and they will have to mobilize themselves. 
In addition, teachers had no choice but to get close to the screen to learn how to use email, cloud technology, and Google applications to conduct distance learning during the pandemic. However, when they go back to class, they will face students with different levels of knowledge. This is a big challenge for teachers in post-covid life. Students gain knowledge and skills by studying in a classroom for 170-180 days a school year. However, in the last two years, about 80 percent of classes have been interrupted. 
It is also unclear how many students are behind in school due to their parents living abroad, working for a remote mining company, or perhaps due to not knowing how to do their children's homework. Teachers will encounter students in second-third grade who have never been in a classroom and those who don't know how to read or write yet. The problem is not only for grade school students but for university students as well. As their delay widens, there are further concerns such as some being rejected out of the labor market.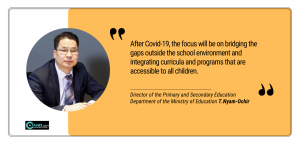 The digital gap needs to be bridged for education to be accessible
Covid-19 has accelerated the electronic transition in the education sector of our country whether we like it or not. Today, university students study remotely, and Ulaanbaatar schools use ZOOM, Google Classroom, and Google Meet, allowing each student to log in via email and study with their teacher. However, local schools are not connected to the network, so most of them use the Facebook class chat. For example, there is a need for students to re-watch TV lessons when there are overlapping TV lesson times in the community, and when they do not fully understand the content upon covering it once. To combat this, the teachers conduct distance learning by posting tele-lesson links and handouts to the class group chat and sending the students private messages. On top of all this, the students receiving the lessons are doing this at different levels in their lives. 
This suggests that the digital divide is an e-learning transition on its own aside from internet access, infrastructure, and access to the resources outside the school. To put it bluntly, the post-Covid-19 period cannot be planned with the emotional fever caused by the pandemic
According to UNICEF, at the beginning of the pandemic, 90 percent of countries had remote schooling. Unfortunately, 31 percent of high school students in developing countries like Mongolia do not have access to distance learning due to the digital divide. In Mongolia, 26 percent of all students are not able to attend the teleclasses because they live in remote areas. As for e-learning, there is limited accessibility. Schools in 21 aimags and 339 soums are not connected to the unified platform. If we look at the number of students in school this year, about 53 percent of all high school students live in rural areas. 
T.Nyam-Ochir said, "During the pandemic, all countries around the world are facing a digital divide in terms of infrastructure, machinery, and equipment readiness due to the transition to distance learning." According to preliminary estimates, more than 150 billion MNT will be needed to install solid infrastructure or the internet and the necessary equipment in each school. 
Therefore, funding for the education sector, which accounts for 12.2 percent of the state budget (as of 2020) will inevitably increase in the coming years. Due to the pandemic, countries are putting a heavy strain on their budgets to support their economies and to improve the health care system. However, international development organizations are urging that this should not be a reason to delay or reduce funding for the education sector. How our Ministry of Education divides on the funding needs next year will be important in addressing the inequalities caused by Covid-19. Whether the education sector, which spends 85 percent of its budget on recurrent expenditures will take steps to reduce the digital divide by restructuring this wasteful scheme or increase funding will depend on Minister L.Enkh-Amaglan's well-thought-out and orderly education policy and budget decision. 
Participants in an online meeting of the world education ministers warned that the country's per capita income per person would fall by 865 USD if academic delays continue. The figure of 865 USD is about one-fifth of Mongolia's GDP per capita. At current values, East Asia and the Pacific are at risk of losing 2.8 trillion USD. Therefore increasing the availability of the internet to enable independent learning and the elimination of backwardness as soon as possible is the beginning of a long-term development solution.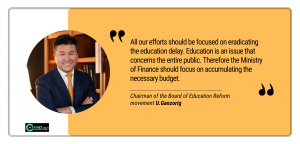 "Natural selection" among teachers
The Guren Academy is training 1000 teachers nationwide. One of the goals of the training is to develop the teachers' technology skills. For local educators who have recently become accustomed to working with Google Drive, Google Sheet, and using e-mail regularly, improving their technical skills is at least an indicator of effective distance learning and survival in the industry. There is a huge need for teachers to improve their technical knowledge and skills so that they can use smart devices, apps, and applications at the same level, even if they are not better at technology than their students. 
Nonetheless, this is more common for middle and high school teachers. As for primary school teachers, there is a need to improve the quality of classroom lessons. Primary school children cannot learn using technology. No e-learning solution in the world can replace classroom learning in developing children's skills and cognition. "Children learn to read, think, and concentrate during one-hour classes. Why does a teacher conduct a lesson for an entire hour? It is to focus the children's attention on the topic being taught, and then to make the child think, read, and understand. However, it is doubtful that a child will be able to acquire and develop the skills that should arise from such a live relationship from television and behind the scenes," explained former Minister L.Gantumur. 
According to the Ministry of Education and Science, in addition to class teachers, support teachers are being considered for the next school year. Such teachers work closely with children who do not understand the lessons of the day. In essence, students make up for lost time with a combination of e-learning and classroom learning. Furthermore, this dual learning environment may become permanent. This will increase the cost of teaching staff after Covid-19. 
In Mongolia, which has a limited teaching staff, this will require teachers to improve their methods in classrooms and e-learning. During Covid-19, many realized that there is a big difference between teaching in the classroom and from behind a screen. "Three teachers are giving maths lessons to our graduating class. The students say they don't understand the subject. Although they are university professors, they have never taught in high school, so of course, they have to take a different approach and speak at a different level." said G.Bayarmaa. The training manager of School #6 in Selenge province, "However, the children understand the lessons taught by teachers from private schools such as New Era very well and consider them to be great teachers" she continued.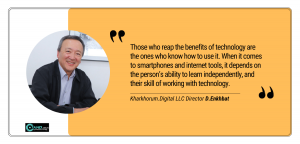 The circumstances must be aligned
According to the World Economic Forum, foreign language apps, virtual lessons, video conferencing, and e-learning programs are expected to enter the post-Covid-19 education sector. 
Before the start of the pandemic, global investment in ed-tech was estimated at 18.66 billion USD in 2019, and ReasearchAndMarkets.com predicts that by 2025, the market for e-learning products and services will reach 350 billion USD. This expansion of the global market will be driven by developments based on artificial intelligence technology. 
This is a sign that there is a limitless opportunity to overcome the backwardness of education and to lead as long as we can use technology and have few foreign language barriers. From an individual point of view, education is an affordable, effective, and widely available option. 
The interesting question lies in where Mongolia and its education will be in this space, and how it will affect the recovery of the post-Covid-19 education sector. Let's take a look at the answer. 
Less than ten percent of secondary school students are studying foreign curriculums at private schools. The rest are studying in a so-called national but abandoned curriculum in the face of global education competition. This added to the deepening educational inequality due to Covid-19. We are in an environment where we are at risk of falling into the abyss of educational poverty across the country at the rate of another free fall. 
On the other hand, technologies and start-ups that are conquering the younger generation have become creators of educational content. This means that Mongolian children will be able to gain knowledge and skills from many sources, not just formal schools. In a country like Mongolia with a small population, immunity, and openness, foreign education content will spread quickly once it is introduced. To that extent, there may be many differences in children's knowledge and skills. 
One way to counteract this is for tech-savvy Mongolians to compete alongside global educational content. There is no denying that one has seen this boundless opportunity. Even if we don't conquer other countries and markets, let's support our national technology companies to produce educational content that suits the minds of Mongolian children, at least in their mother tongue for the sake of the future generation. 
Although there is a lack of teaching methods and reluctance to introduce technological solutions in the education sector during the Covid-19 period, the policy support of education ministries, institutes, and businesses in partnership with technology companies will pay off in the long run. Let them implement the idea of equal access to education and create a system in which knowledge is acquired in a single field without steps. In this way, there will be competition from technology-based content companies in the education sector. This way, there will also be competition from technology-based content companies in the education sector, and equal access to knowledge and skills will be a way to reach students in all parts of Mongolia. U.Ganzorig, an economist and Chairman of the Board of Education Reform, said that caution should be exercised in creating digital content for education. "Developing digital content is very important," he said. "However it is important to develop on a scientific and pedagogical basis, without getting emotional. "I am concerned that there have been recent attempts to introduce a completely new and untested methodology into the education system in the name of the digital revolution, which is not based on any research or theory." he continued. 
Thus, in the two series of reports, we addressed the issue of educational backwardness, dropouts, and the capacity building of teaching staff. there are many reasons why students drop out of school, but money, financial difficulties, poverty, poor living conditions disability, language and cultural differences, housework, discrimination, gender-based violence, unsupervised environments, remote locations, and herding, employment, and horseback riding are in line with traditional Mongolian household culture. 
In Ulaanbaatar, living standards are low. Migration, unregistered disability, teacher discrimination, harassment, parental attitudes, and irresponsibility are high. In the provinces and soums, school dropouts are mainly due to disability, low living standards, geographical location, remoteness, parental attitudes, and irresponsibility. Therefore, I hope that if all these distortions can be diagnosed in a short period and if appropriate 'treatment' can be applied, the opportunity for the sun to rise in Mongolia's education sector will not be far off.